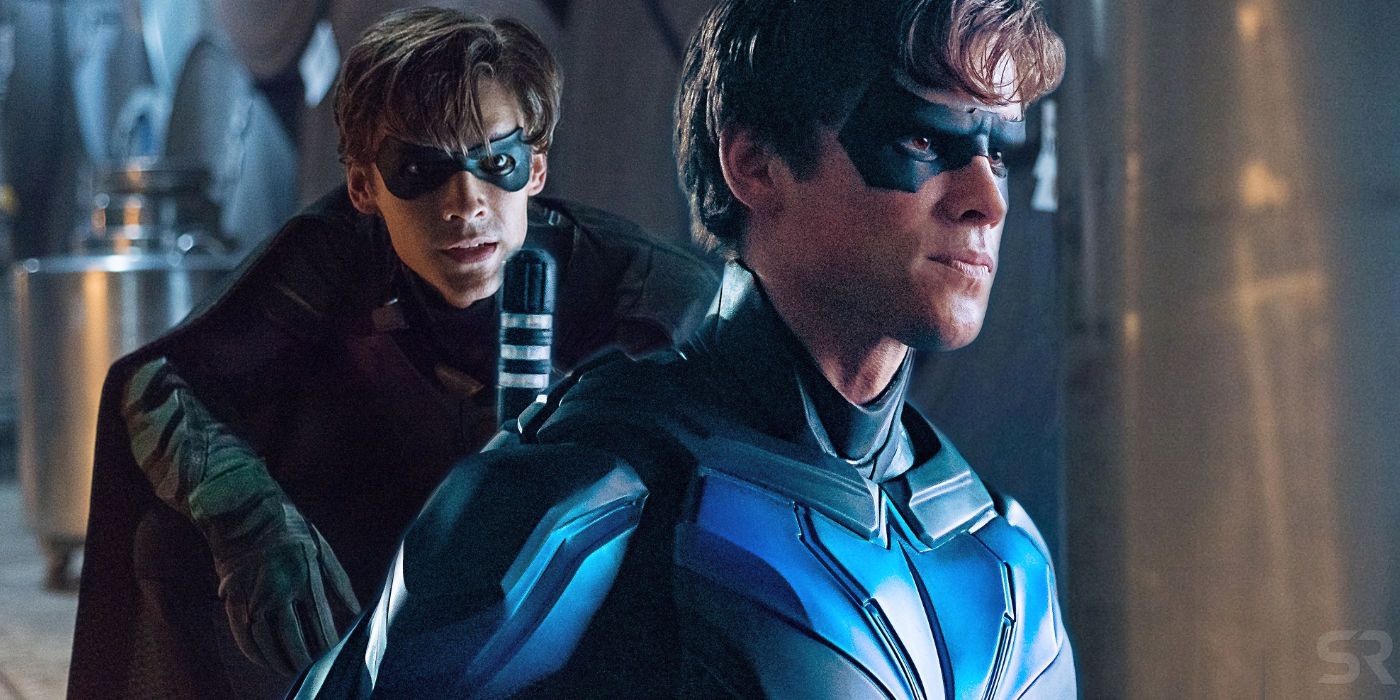 A new image from the original Titans season 1 finale has emerged – revealing Nightwing in action a whole season early. Debuting in 2018, Titans served as the flagship offering of the DC Universe streaming service. The show proved a hit upon release and was rapidly renewed. Though not without some lingering issues, Titans season 2 largely improved upon the first and expanded its popularity. As such, a third season has already been confirmed for 2020. Though Titans is very much an ensemble story, a bulk of the action and drama has centered on Dick Grayson (Brenton Thwaites) as he attempts to forge his own identity out from beneath Batman's shadow.
Many fans assumed that transition – which would see him officially adopt his Nightwing persona from the comics – would culminate at the end of season 1. That hope only grew when, in a cathartic moment, Dick burned his Robin suit. Unfortunately, it wasn't to be – especially when the original season 1 finale was scrapped and remolded into the season 2 premiere. Though the episode served to help Dick Grayson finally (and brutally) lay his Batman-shaped demons to rest, season 2 merely retconned the Titans' history and gave Dick even more demons to brood over. Those demons now came in the form of the team's comic book nemesis, Deathstroke, and the death of Slade Wilson's son, Jericho. After much teasing throughout season 2, however, Nightwing finally made his debut in the Titans season 2 finale.
Related: Titans: Season 2's Soft Reboot Was Completely Pointless
A newly released image from Titans season 1, however, has only served to reiterate that fans almost had an on-screen Nightwing last year. Posted on Facebook by Larnell Stovall, the shows Thwaites in the full black and blue costume. Also present are versions of the same Escrima stick weaponry he effectively utilized against Slade Wilson in the Titans season 2 finale. The location from the image appears to be a warehouse of some kind, though the context of the moment remains not entirely clear. Equally, it's unknown with whom Nightwing is clashing. Based on the image, and the fact it was for an end credits sequence, the idea that it was an original for Deathstroke's arrival is plausible. Then again, just as likely is the idea that it was a random collection of criminals – through which the new status quo would have been set ahead of Titans season 2. Whatever the case, the full image can be seen below:
Beyond choosing to conclude Titans season 1 on a cliffhanger, the reasons for delaying the inevitable have never been expressly revealed. It wasn't just an earlier appearance of Nightwing, however, that fans missed out on. Other recent photos revealed official costumes for both Starfire and Raven. Equally, it emerged that members of the Doom Patrol made an appearance in the initial plans for the Titans season 1 finale. Doom Patrol, of course, is a separate DC Universe show. Introduced via a backdoor pilot in Titans season 1, the unconventional superhero team later spun off into an already aired season of their own. Proving a success in its own right, Doom Patrol season 2 is currently in production.
In terms of Titans, however, season 3 already has a new villain set up – with Damaris Lewis promoted to a series regular as Kory Anders' nefarious sister, Blackfire. Equally, as belated as it seems to many fans, there is solace in the fact that Nightwing is at least front and center now. And, as seen in one of the final shots of Titans season 2, the Titans team is finally unified. As such, there will be much to look forward to, including more such Nightwing action, with Titans season 3 hopefully getting things right after some noticeable blips.
More: What To Expect From Titans Season 3
Titans season 1 and 2 are currently available to stream on DC Universe.
Source: Larnell Stovall/Facebook